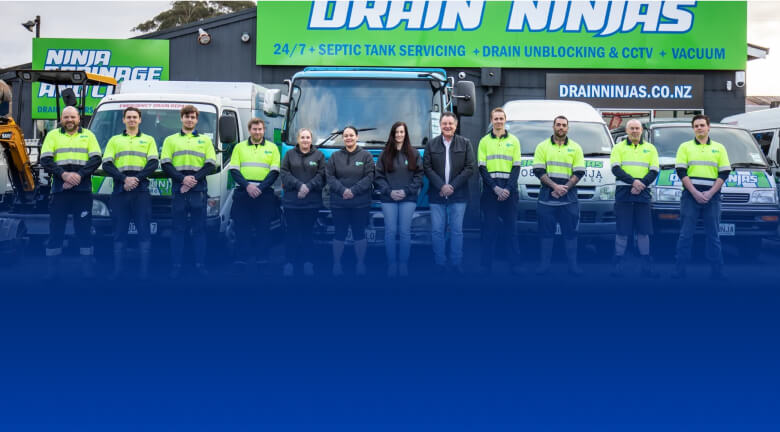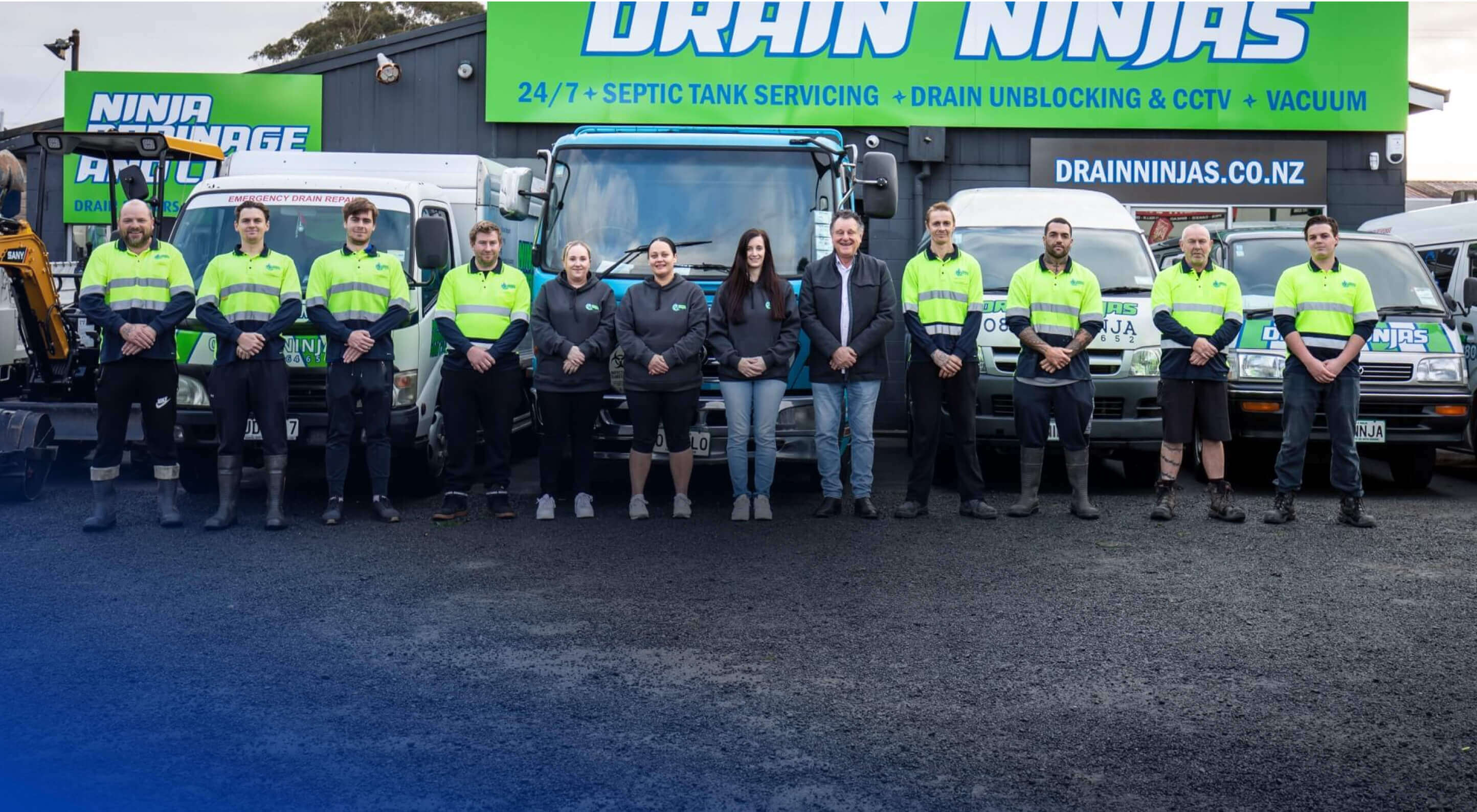 24/7 drain unblocking, vacuum loading, and CCTV drain specialists, Septic tanks, Hydro X
Drain Ninjas are your Auckland drainage service experts. Call us for professional and timely drainage solutions.
See Services
Get in Touch
Lifesavers, 100% recommend, make these guys your first call if you have a blockage – I wish we had. eW called for a second opinion. Fixed the problem super quick with friendly service.
The service I receive from Drain Ninjas has always been awesome, efficient and prompt..I highly recommend them.
Thanks guys for a great service, reasonable prices and awesome communication.
Can't recommend the Drain Ninjas Team enough, the lovely team came out to the rescue when our backyard had completely flooded due to tree roots (very bad ones might I add) growing through the pipes. The team were speedy, got straight onto the job and were very professional about how the went about it. The team were super friendly and had great humour. Thanks guys for an amazing experience with you guys! Will recommend you guys to everyone!!!!!
Couldn't have been more pleased with Eathan and Drain Ninjas. The job was diagnosed and done quickly, no messing around. Roots were chopped out and I was given long term care instructions and advice for my drain.
Extremely impressed with Drain Ninjas; Sasha, Troy and Mitchell were very professional, friendly and efficient. Excellent value for money. We will definitely use them again and have no hesitation in recommending highly to others. Awesome Drain Ninjas!
How can we help
Drain Services
Drain unblocking
Using the latest high-tech water blasting equipment our Ninjas unblock and clear drains
CCTV
We have the latest high resolution full colour cameras to analyse drain issues.
Fault finding & locating
Our latest equipment can find any faults in your drain and locate the exact whereabouts to enable us to develop a solution.
Drain Maintenance
Our Ninjas can jet clean everything from drainage overflows, moss & grime, houses, driveways, and much more.
Drain Repairs
Our latest equipment can find any faults in your drain and locate the exact whereabouts to enable us to develop a solution.
Root Cutting
Our high-tech, high pressure root cutter efficiently removes tree roots from drains.
Pre Purchase Inspections
At Drain Ninjas we provide a pre-purchased or newly purchased drainage inspection so you don't get caught out with hidden drain issues.
Vacuum Loading
Forget your bucket and your trusty Dyson wet and dry. Professional vacuum loading removes unwanted liquid waste quickly and efficiently, giving you back a healthy and usable area.
Have an odd request?
If you need something that doesn't quite fit in any of these categories, give us a ring, we are happy to help!
Learn More
How can we help
Vacuum services
Septic tank cleaning
Without periodic cleaning and clearing, the effluent content of your septic tank will eventually thicken. The outlet line can then become blocked, overfilling the tank and stopping it from working. Depending on your septic tank model, an alarm may warn you when you reach this point, but in many cases the first sign of a blockage can be unpleasant smells, sewage backup, or overflow above the tank's drain field.
Hydro excavation
Hydro excavation, also known as non-destructive digging, is the ideal solution for excavation work where delicacy and precision are required. Underground areas are becoming increasingly crowded with utilities these days, and maps of utilities are not always accurate. With hydro excavation, dirt is broken down using water pressure - the debris is then simply vacuumed away, leaving the exposed area tidy and visible.
Grease trap cleaning
Grease traps perform a critical function in any commercial kitchen, and without regular cleaning and checks they will eventually stop working, grinding business to a halt.
Soak hole clearing
Soak holes are an alternative means for getting rid of stormwater for properties that don't have a connection to public stormwater drainage. They are surprisingly common throughout the Auckland region, and like most drainage systems, people often have no idea they are there until they start to go wrong.
Detention tank
Detention tanks collect stormwater from a property before releasing it into the public system, helping to prevent problems for downstream drains and waterways. In Auckland, where council drainage systems are behind the growing number of houses, detention tanks are often a requirement for newer properties and are becoming increasingly common.
Pump chambers
Sewage flow from a property out to public sewage mains normally depends on gravity. But if your property is lower than the main public sewer line, it will need to use a pump chamber in order to pump waste away. Homes with pump chambers are common in homes below street level or otherwise low down in hilly areas, but they are found throughout Auckland in any area that happens to lie below the local sewage mains.
Pile hole cleaning
Auckland's wet climate often makes keeping pile holes dry difficult, leading to schedule delays and added costs on large construction projects. Rain frequently falls in the time between pile holes being dug and filled with concrete. Building on reclaimed land can also cause pile hole flooding even if the weather is dry. And groundwater can be an issue anywhere, including on building sites in drier areas during fine weather. If too much water collects, concrete will not set properly and cannot be poured. Delays in pile construction often hold up the next stage of construction in turn.
Cesspit cleaning
If the area outside your property has recently started flooding despite the presence of drains, then it's possible your property's cesspit may have become blocked. Cesspits contain a sump to help filter out debris such as plants, sediment and rubbish from stormwater systems, but as these debris accumulate over time they can block drainage outlets, leading to flooding. Small cesspits can sometimes be cleared by hand, but for larger cesspits this is unsafe and requires a vacuum truck.
Have an odd request?
If you need something that doesn't quite fit in any of these categories, give us a ring, we are happy to help!
Learn More
The Drain Ninja recommendation of the month:
bi-annual inspection and flushing of drains for residential and commercial clients to ensure drain performance and avoidance of unpleasant and expensive problems and possible health issues. We have designed competitively priced annual contracts to meet everyone's needs.
Check out some more tips
Do you have any questions?
Some times you just need the experts to figure something out for you, see if your question has been answered
Drain unblocking and cleaning specialist
Using the latest high-tech water blasting equipment our Ninjas unblock and clear drains.
At Drain Ninjas, we know the importance of having drains operating at 100% and also understand that even a partially blocked drain or blocked sewer is not only unpleasant at best but can be a health hazard and cause major property and contents damage at its worst.
There are multiple causes for blocked toilet & drains in Auckland, such as; age (causing a deterioration in condition), ground movement (including heavy vehicles), tree roots or other obstacle intrusion, fat build up from daily domestic or commercial use and foreign objects.
Our experienced drain unblockers in Auckland a.k.a Ninjas use specialised hydro-jetting equipment and non-jetting solutions for drain unblocking in Auckland. If the problem is more serious we will design a solution for the repair of damaged or broken drains, repair inspection point lids or rodding eye, gully trap repairs and other issues located by our Ninjas.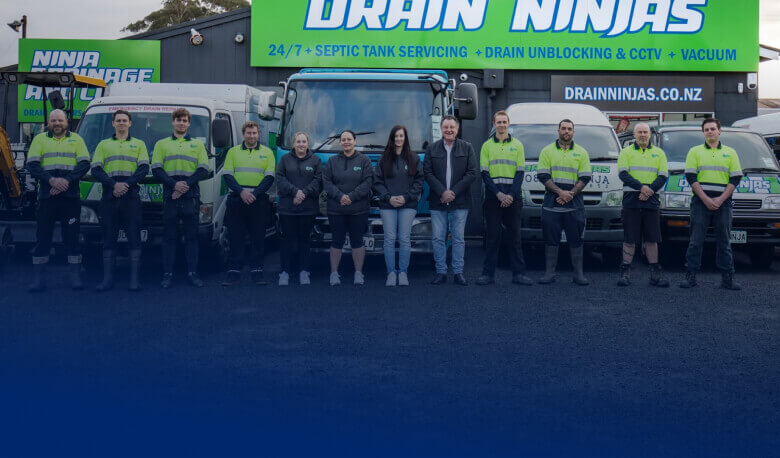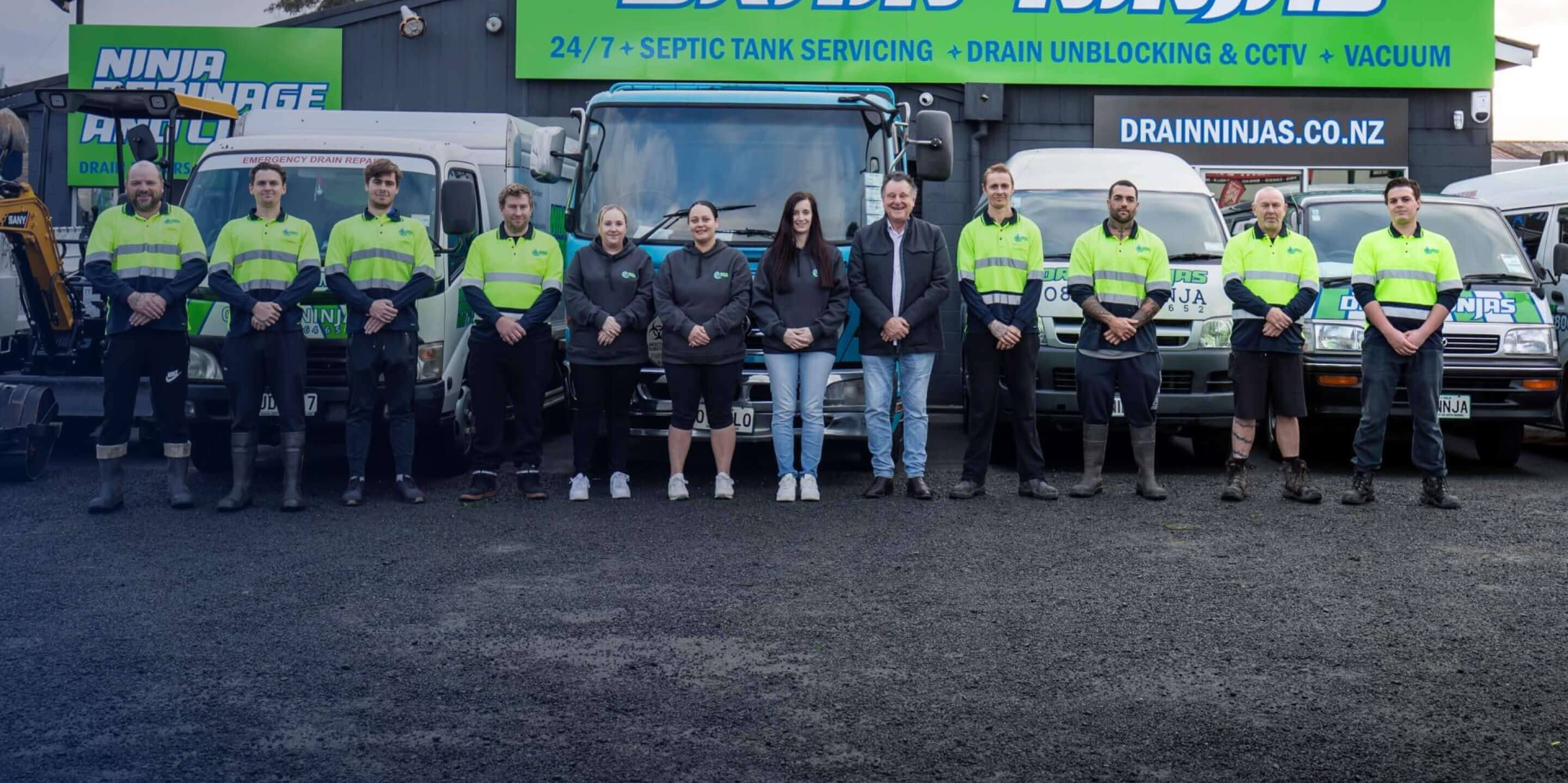 GOT DRAIN ISSUES?
CALL DRAIN NINJAS ON