CCTV Drain Inspection Cameras
For expert Auckland CCTV drain inspection services, you can't look past Drain Ninjas – and with 'ninjas' in our name, we've got to be good! Our technicians have been getting their hands dirty for more than 20 years now, so we really know our stuff. For affordability, peace of mind and reliable service 24 hours a day, seven days a week, give us a call on 0800 475 008 (0800 475 008).
Use drain cctv to uncover the root of your drainage problem
Blocked drains and sewers are frustrating at the best of times. But when the root of the problem is nowhere to be seen, solving it can be very problematic.
Drain Ninjas, Auckland use the latest high-resolution full-colour drainage CCTV cameras to figure out exactly what's causing toilet blocking, your drain issues and where the issue is located, then propose solutions to solve them. The process involves sending a camera into the drain and recording what's going on inside. This footage lets you see exactly what's happening in your drains, without trying to squeeze in there yourself. From uncovering nasty blockages and foreign objects that just shouldn't be down there, to analysing the condition of ceramic and PVC drains and deciding if they should be maintained or replaced, our team of ninjas are trained to recognise and solve drainage problems that are hidden well beneath the surface.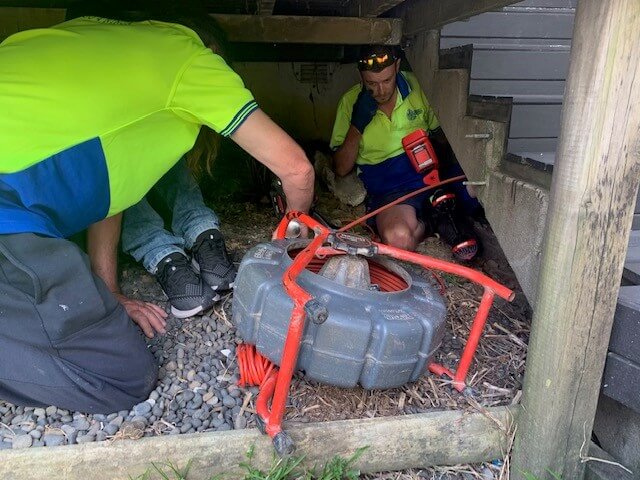 High-tech CCTV drain inspection
The ability to see what's happening in a drain enables you to see the nature and extent of any existing and future problems easily. Our advanced system of cameras and electronic locators pinpoints the problem and its depth below ground level. The more information we can gather about a problem, the quicker and more efficiently it can be solved.
Knowing where drains lie underground makes it easier to determine where and when earth-moving ground work or DIY jobs can be performed too. Drain Ninjas' efficient CCTV drain inspection system helps create necessary precautions so you don't end up messing around with the drainage system, resulting in sometimes very costly and inconvenient repercussions.
Drain CCTV by drain ninjas
If you're in the market for thorough CCTV drain inspection services that deliver accurate results and maximum customer satisfaction, Drain Ninjas is fully-equipped to handle your drainage issues. Need drainage CCTV right now? We're available 24 hours a day, seven days a week for even the most urgent of situations, so don't hesitate to pick up the phone.
Need the ability to look at the problem after repairs have been completed, perhaps for insurance purposes? We can also provide you with a USB or soft copy of the footage upon request, before repair work starts.
The Drain Ninja recommendation of the month:
bi-annual inspection and flushing of drains for residential and commercial clients to ensure drain performance and avoidance of unpleasant and expensive problems and possible health issues. We have designed competitively priced annual contracts to meet everyone's needs.
Check out some more tips
Do you have any questions?
Some times you just need the experts to figure something out for you, see if your question has been answered