Root Cutting Auckland
Drain Ninjas offer competitively priced root-cutting services for residential properties as well as businesses, both small and large. If you want root-cutting services from a team that meticulously deals with problems from start to finish, get in touch with us today.
Excellent work and very friendly.
Very little to say; arrived on time, friendly couple, efficient, and quickly solved the problem for me. Had to use the hydro jet on the problem, and the bill when it came was much less than my plumber had estimated it would be.
I never leave reviews, but troy was well above expectations in his knowledge, experience and approach that i felt compelled to.
Finally a tradesman who is fabulous. I called. Troy actually came as planned. It was clear from the first interaction that he was genuine and knew what from what not. Troy identified the problem within seconds – believe that !! He tested. He checked GIS. The broken swer pipe, while on my property, is not mine to fix. Troy said he would not charge me for coming to id the problem. I only hope the outfit the neighbour gets to fix the broken sewer line is Troy's company. Troy even said he was… available up to 7pm if I wanted to talk about it after talking to the neighbour. So refreshing to meet Troy who prided himself in telling me he owns the company.
Lifesavers, 100% recommend, make these guys your first call if you have a blockage – I wish we had. eW called for a second opinion. Fixed the problem super quick with friendly service.
The service I receive from Drain Ninjas has always been awesome, efficient and prompt..I highly recommend them.
Thanks guys for a great service, reasonable prices and awesome communication.
Don't Let Roots Block Your Drain – Cut Them Off!
Root intrusion in drainage systems is one of the most destructive elements that homeowners and businesses can be faced with. Roots can easily find their way into stormwater and wastewater drains, causing Damage and blocking your system.
Thankfully, Drain Ninjas has the expertise to handle your root-cutting needs. As a New Zealand-owned and operated drainage solutions company, we can assist clients in Auckland, Pokeno and Warkworth.
Unblocking your drain doesn't have to be overly expensive, and it can be done without negatively impacting the environment too. Let us carry this out for you to experience these results.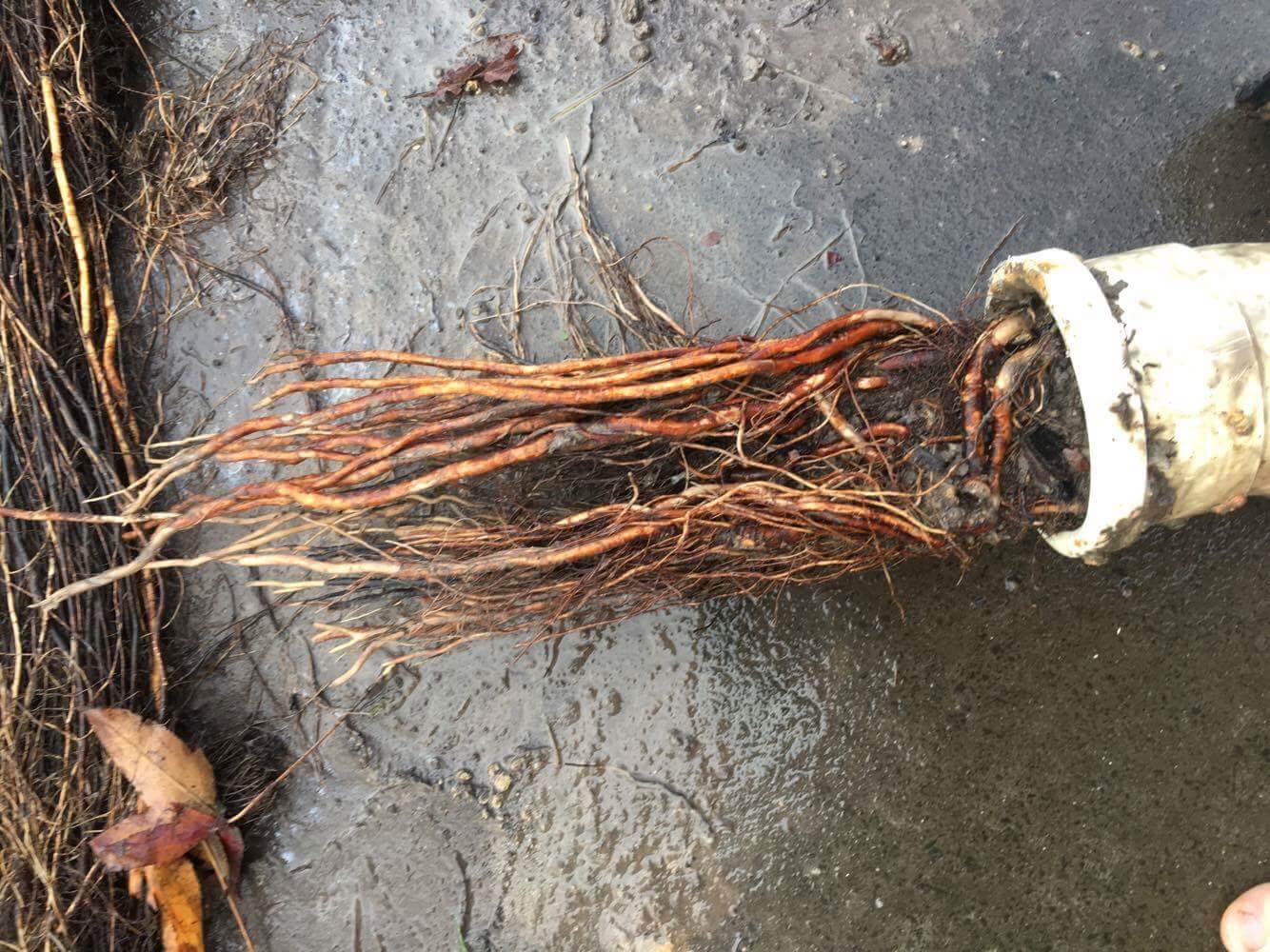 Let Our Ninjas Slice Through Unwanted Roots
Roots are, by nature, spreaders. They will, by any means necessary, find their way to food and water sources, and your drain is one of those areas. The results of their spread can be detrimental to your drain. They have the capability to crush drains, block them and spread debris through the system.
Our highly trained, efficient and qualified technicians have their swords ready to cut through these roots and get your drain flowing again.
Benefits Of Root Cutting And Jet Cleaning
Root cutting does more than unblock your drain. When combined with jet cleaning services, it also cleans out accumulated fat, silt, debris, foreign material, and bacterial deposits.
The Drain Ninja recommendation of the month:
bi-annual inspection and flushing of drains for residential and commercial clients to ensure drain performance and avoidance of unpleasant and expensive problems and possible health issues. We have designed competitively priced annual contracts to meet everyone's needs.
Check out some more tips
Do you have any questions?
Some times you just need the experts to figure something out for you, see if your question has been answered