Pile Hole Clearing
Drain Ninjas can clear out water from pile holes fast, ensuring that your construction project continues without a hitch. We have the equipment and expertise to handle construction projects large and small. Call us today on 0800 4 NINJA
Excellent work and very friendly.
Very little to say; arrived on time, friendly couple, efficient, and quickly solved the problem for me. Had to use the hydro jet on the problem, and the bill when it came was much less than my plumber had estimated it would be.
I never leave reviews, but troy was well above expectations in his knowledge, experience and approach that i felt compelled to.
Finally a tradesman who is fabulous. I called. Troy actually came as planned. It was clear from the first interaction that he was genuine and knew what from what not. Troy identified the problem within seconds – believe that !! He tested. He checked GIS. The broken swer pipe, while on my property, is not mine to fix. Troy said he would not charge me for coming to id the problem. I only hope the outfit the neighbour gets to fix the broken sewer line is Troy's company. Troy even said he was… available up to 7pm if I wanted to talk about it after talking to the neighbour. So refreshing to meet Troy who prided himself in telling me he owns the company.
Lifesavers, 100% recommend, make these guys your first call if you have a blockage – I wish we had. eW called for a second opinion. Fixed the problem super quick with friendly service.
The service I receive from Drain Ninjas has always been awesome, efficient and prompt..I highly recommend them.
Thanks guys for a great service, reasonable prices and awesome communication.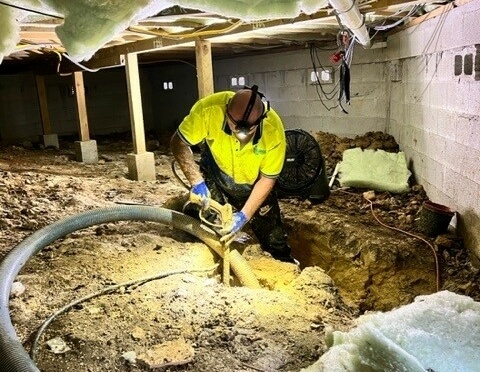 The Issue
Auckland's wet climate often makes keeping pile holes dry difficult, leading to schedule delays and added costs on large construction projects. Rain frequently falls in the time between pile holes being dug and filled with concrete. Building on reclaimed land can also cause pile hole flooding even if the weather is dry. And groundwater can be an issue anywhere, including on building sites in drier areas during fine weather. If too much water collects, concrete will not set properly and cannot be poured. Delays in pile construction often hold up the next stage of construction in turn.
The Solution
Vacuum loading is a highly effective solution to this issue. Vacuum trucks are mobile and able to suck up hundreds or thousands of litres of water, sludge and other debris from pile holes, quickly getting them ready for concrete pouring. They are also relatively unobtrusive and able to work alongside construction crews between the pile excavation and pouring stages. Even if piles are being dug in the rain or on land that is below nearby water levels, pile hole clearing allows construction to proceed as planned.
Our Experience
Drain Ninjas' experienced team and equipment mean we are able to work faster and more efficiently, spending more time on site and less time on disposal runs in order to get the job done quicker. Our 10,000 litre capacity units are much larger than most trucks out there, allowing us to clear more pile holes between runs. And we have multiple disposal sites throughout Auckland, allowing us to empty and return to the site quickly. Our capacity and expertise even make us suitable for multi-day projects on construction sites with 100+ pile holes.
The Drain Ninja recommendation of the month:
bi-annual inspection and flushing of drains for residential and commercial clients to ensure drain performance and avoidance of unpleasant and expensive problems and possible health issues. We have designed competitively priced annual contracts to meet everyone's needs.
Check out some more tips
Do you have any questions?
Some times you just need the experts to figure something out for you, see if your question has been answered