Vacuum Loading For Liquid Waste Removal
For expert vacuum loading and liquid waste removal services Auckland-wide, you can't look past Drain Ninjas – and with 'ninjas' in our name, we've got to be good! Our technicians have been getting their hands dirty for more than 20 years now, so we really know our stuff. For affordability, peace of mind and reliable service 24 hours a day, seven days a week, give us a call on 0800 4 NINJA (0800 4 64652).
Get Rid of Unwanted Liquid Waste Quickly & Efficiently
Forget your bucket and your trusty Dyson wet and dry. Professional vacuum loading removes unwanted liquid waste quickly and efficiently, giving you back a healthy and usable area.
The team at Drain Ninjas is highly skilled in all aspects of drain unblocking, particularly when it comes to using suction trucks to clean out septic tanks, grease traps and cesspits, and removing surplus water from sumps, soak holes and concrete wash offs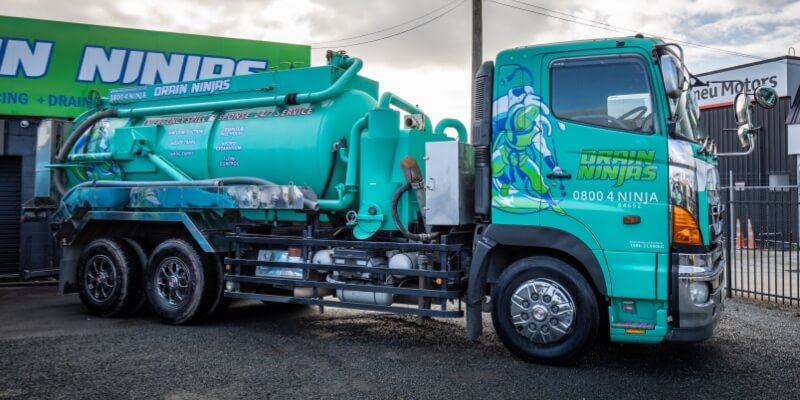 Vacuum Loading & Septic Tank Cleaning
In a domestic environment, vacuum loading is most commonly used in septic tank cleaning. For ongoing efficiency and optimal personal health, septic tanks should be cleaned at least once every three years. It's not one of those jobs that anyone can do when they've got a few hours up their sleeves though. For efficient service and safe best-practice, it's important that you hire an experienced Auckland septic tank cleaner professional like Drain Ninjas. Not only do we provide exceptional service, but we also carry out all the necessary precautions to minimise our impact on the environment.
High-Quality Vacuum Loading By Drain Ninjas
For efficient and environmentally-aware vacuum truck solutions, don't look past the team at Drain Ninjas. With more than 20 combined years of experience in getting our hands dirty, our team of ninjas prides ourselfs on thorough, friendly service that delivers the best results the first time. We offer great results with minimal disruption to the everyday running of your home or business, plus our competitive pricing and commitment to looking after the environment is the cherry on the top of our overall service.
Vacuum Loading Solutions To Fit All Scenarios
Drain Ninjas offers a range of drainage solutions right across wider Auckland. Our modern vacuum trucks can handle everything from septic tank cleaning and grease trap cleaning right through to drawing unwanted water away from retention tanks and sumps. Keen to see what else we can help with? Here's our full list of vacuum loading-related services:
-Septic tank cleaning
-Cesspit cleaning
-Grease trap cleaning
-Pump chambers
-Detention and retention tanks
-Sumps
-Hydro excavation
-Soak holes
-Pile holes
-Concrete wash offs
-Unwanted and pooling water
The Sucker Truck Family
Our eight wheeler sucker truck is a large hydro excavation truck that can be used in multiple situations that require vacuum. Our small truck – a four wheeler – is ideal for tight driveways and generally hard to access situations. The six wheeler we call our "Super Sucker Truck" and provides the highest level of vacuum which is ideal when you have thicker product that needs moving around.
All our sucker trucks come with a range of hoses to fit the task and enable us to get the job done as quickly as possible. Plus of course every truck comes with its special accessory – a polite and friendly operator.
All our sucker truck team are fully trained to deliver an efficient and professional job. And because we charge on a time basis they will step forward if they can see ways to make their work more efficient to save you money.
Need help right now? We're available 24 hours a day, seven days a week for emergencies, so don't hesitate to pick up the phone now.
The Drain Ninja recommendation of the month:
bi-annual inspection and flushing of drains for residential and commercial clients to ensure drain performance and avoidance of unpleasant and expensive problems and possible health issues. We have designed competitively priced annual contracts to meet everyone's needs.
Check out some more tips
Do you have any questions?
Some times you just need the experts to figure something out for you, see if your question has been answered